Beach Enclave
Check
Availability
Best Rate Guarantee
Best Rate Guarantee
If you find a lower qualified rate within 24 hours of booking, we'll match it- and treat you to a $1000 hotel credit.
Beach Enclave Philanthropic Activities
Beach Enclave is involved in assisting the local community of Turks and Caicos in a number of ways, one of them is assisting in a local charity called "Food For Thought".
The Programme
Food for Thought is a local charity based in Providenciales, Turks and Caicos Islands,
This charity aims to ensure all school children in the Turks and Caicos Islands (TCI) are nourished and therefore able to reach their full potential.
Here are some statistics from Unicef: Well nourished children are 13% more likely to be in the correct grade at school, boosting lifelong skills. Malnourished children are 19% less likely to be able to read a simple sentence aged 8, and 12% less likely to be able to write a simple sentence. Children who are malnourished go on to earn 20% less as adults than the children who are well nourished.

The latest TCI Poverty Assessment Survey showed that 16% of the households were in poverty. Households with children accounted for over half of those poor households. Many families simply cannot afford to provide proper nourishment for their children. Not only is the earning potential of children likely to be hindered due to the difficultly to learn if not properly nourished, but the cost of loss of production to the economy is substantial. It is our obligation as a community to ensure no child goes without a breakfast and is able to learn and develop.
Why Food For Thought?
For every direct booking made through the Beach Enclave website, beachenclave.com, Beach Enclave will donate US$100 per booking to Food For Thought, which will provide a daily breakfast for a local child for six months.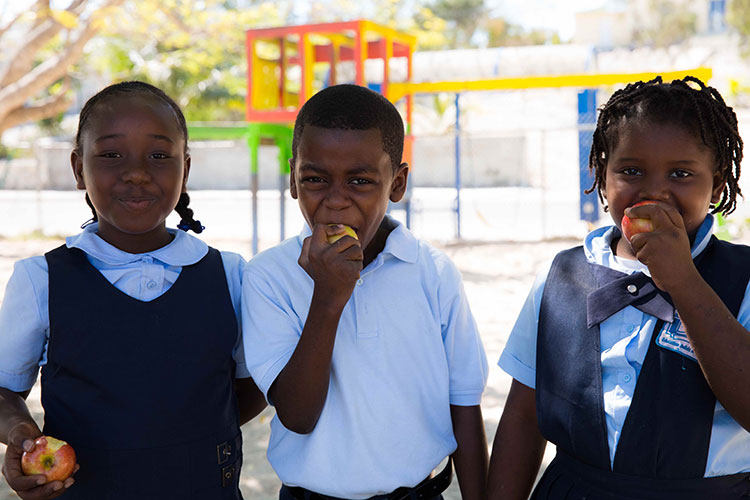 Back to Top