Beach Enclave
Check
Availability
Best Rate Guarantee
Best Rate Guarantee
If you find a lower qualified rate within 24 hours of booking, we'll match it- and treat you to a $1000 hotel credit.
From Fun To Formal, Our Favorite Restaurants, Cafes & Island Hotspots
Provo is a food lovers' favorite, with dozens of restaurants serving up fresh Caribbean fare, ethic cuisines ranging from Mediterranean to Mexican, and a generous helping of island atmosphere. From upscale eateries to toes-in-the-sand beach shacks, every meal turns into a memorable event.
UPSCALE DINING
*Reservations are strongly suggested for all upscale restaurants
COYABA
Iron Chef winner Paul Newman is the talent behind this fine Caribbean dining experience in a romantic garden setting. Closed on Tuesdays.
STELLE RESTAURANT
Savor Chef Joel Vallar's international menu highlighted by Asian specialties. Elegant, modern and chic, Stelle offers seating on a beautiful outdoor terrace space or in elegant indoor air-conditioned comfort. Open for breakfast and dinner daily.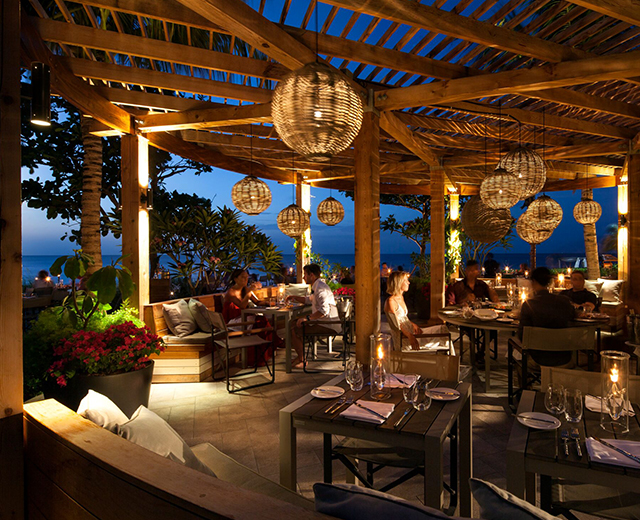 INFINITI
A gourmet oceanfront restaurant featuring fresh ingredients and modern presentations, Infiniti mirrors the sophisticated style of the islands. Don't miss the Infiniti Bar, the longest bar in the Caribbean, a favorite for signature cocktails with a gorgeous sunset view.
See Other Provo Hotspots
PARALLEL 23
An elegant dining experience, Parallel 23 offers an array of sophisticated dishes, served outdoors under the stars or indoors. Open for dinner daily.
MAGNOLIA
A great place to enjoy the sunset overlooking Turtle Cove Marina, Magnolia serves international cuisine. Don't miss the seared tuna steak, an island-wide favorite. Closed on Mondays.
SEVEN AT SEVEN STARS RESORT
An exceptional culinary experience featuring a blend of international flavors, spices and techniques along with the island's freshest seafood and steak. Bonus: There's also a chic indoor dining area for those hot summer nights. Closed on Sundays.
COCO BISTRO
Enjoy a Mediterranean-Caribbean dinner menu featuring organic herbs and ingredients grown in the restaurant's private garden. The open-air dining room offers cool breezes and a laid-back atmosphere. Closed on Mondays. Note: Reservations one month in advance strongly recommended.
THE OPUS WINE BAR
Savor the freshest catch, delivered by local fishermen, on the garden-themed deck. Menu highlights include snapper, grouper, conch and seasonal lobster, as well as choice cuts of meat, delicious pasta dishes, and spicy curries.
THE CAICOS CAFÉ
Score a seat on the open-air patio for Caribbean seafood kicked up with Italian flavors.
GRACE'S COTTAGE
The intimate, elegant atmosphere of Grace's Cottage is a perfect backdrop for gourmet cuisine with an emphasis on Caribbean ingredients.
KITCHEN 218
For a romantic dinner, head to Kitchen 218 for modern, fresh, and creative cuisine in an elegant setting. Closed on Thursdays.
BELLA LUNA RISTORANTE
Known as "The Glass House," this island favorite serves Italian cuisine with a Caribbean influence. Closed on Sundays.
BACI RISTORANTE
This intimate Italian restaurant is located right on the water in Turtle Cove! Don't miss the brick oven pizzas. Open for lunch and dinner. Closed on Sundays.
CASUAL DINING
BAY BISTRO RESTAURANT
Overlooking the turquoise waters of Grace Bay Beach, the Bay Bistro serves creative international cuisine. Located at Sibonne Beach Hotel. Open for breakfast, lunch and dinner.
COCOVAN
Nestled into the grounds of Coco Bistro, Cocovan serves dinner and drinks under a canopy of palms from a classic 1974 Airstream Kitchen. Closed on Mondays.
MANGO REEF RESTAURANT
Featuring French, Caribbean and Asian cuisine, this all-day dining spot is located at the Turtle Cove Marina on the water. Open for breakfast, lunch and dinner daily.
THE DECK AT SEVEN
A casual open-air dining experience overlooking Grace Bay, The Deck serves light fare and great drinks. Don't miss the Sunday BBQ & Bonfire with live music. Open for lunch and dinner daily.
LAS BRISAS RESTAURANTS & BAR
Spectacular views of Chalk Sound, this island gem specializes in tapas and Caribbean and Cuban cuisine. Open for breakfast, lunch and dinner. Closed on Tuesdays.
DINING SPOTS ON THE GRACE BAY STRIP
DANNY BUOY'S
The ultimate authentic Irish pub, Danny Buoy's serves a mix of Caribbean and Old World cuisine. Open for lunch and dinner daily.
LUPO
Serving true Italian comfort food in the heart of Grace Bay, Lupo is your go-to for homemade pastas, cured meats, imported cheeses, marinated olives, antipasti, classic salads and daily specials served in a warm and casual atmosphere.
Le BOUCHON DU VILLAGE
Located in the Regent Village shopping area, this quaint sidewalk-style French bistro serves fresh local fish daily, paired with a great wine list. Open for lunch and dinner. Closed on Sundays.
YOSHI'S JAPANESE RESTAURANT
Located in the Salt Mills Plaza, Yoshi's offers sushi, beef, and chicken, with tempura, sushi and teriyaki dishes indoors and out. Open for lunch and dinner. Closed on Sundays.
SWEETS AND SUCH
Enjoy tasty treats and ice cream while shopping at the Salt Mills, The Regent Village and The Ports of Call plaza, Shops are open six days a week, Monday – Saturday, 10:00 am – 6:00 pm. Closed on Sundays and holidays.
Our favorites include:
Melt
Turk Berry
Giggles Ice Cream
Patty Place
LOCAL FAVORITES
THE LOCAL FISH FRY
Every Thursday, more than a dozen local food vendors, entertainers and cultural acts come together for a lively Island Fish Fry. Join the fun from 5:30 – 9:30 pm at Bight Children's Park and catch local acts (including Lee & the Force, Sea Breeze Rip Saw Band, Keno & Kazz Alroy & Daz, Kew Band Lynx and V6 Rake n Scrape Band) keeping the crowds on their feet.
SOMEWHERE CAFÉ
Located at Coral Gardens on Grace Bay, this Tex-Mex favorite offers seating on the patio and upper deck. Open for breakfast, lunch and dinner daily. Music on Wednesdays, Thursdays, Fridays and Sundays!
DA CONCH SHACK
A "must do" dining experience, Da Conch Shack serves the best fresh, local conch dishes in the Turks & Caicos Islands! Dine on the deck or on the beach, choose from a large selection of rum, beer and wine, and enjoy live music on Wednesdays. Open for lunch and dinner daily.
BUGALOO'S
Great for 'feet in the sand' dining, this local spot is known for its fresh conch salad and conch fritters and weekend tunes by a live band or DJ. Located on the beach in 5 Cays.
MR. GROUPER
This local favorite is a must for classic Caribbean dishes, rum punch, and friendly service.
Back to Top